Rules for 5QF:
Copy and paste the following questions to your blog post, answer them, then watch for the linky post to appear Friday morning and LINK UP!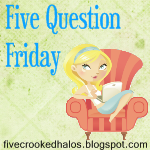 HAVE FUN!

Questions for Friday, December 28th: (Special thanks to Stephanie (@stephanielex) fromOn My Mind, Pam (@trooppetrie) from Troop Petrie, and Kate (@katieb38) from Kate's Life for these 5QF question suggestions! I would love to link you in a future 5

QF

, so come on over to my community or watch for my Thursday afternoon shout out for questions on Twitter and offer up your best question suggestions! Remember to @5

crookedhalos

me and use

hashtag

#5

QF

if you go the Twitter route!)
1.
Have you set any goals/resolutions for 2013?
A New Budget to include Saving Money. We tackled our debt-now it is
time to save!
2.
Have you made any travel/vacation plans for 2013?
March-Las Vegas, August is our annual Camping trip to Moses Lake, Wa
3.
What room is never cleaned in your house?
My 4 year olds room!
4. W
hat food must be in your house at all times?
Cheese!!!!!!
5.
Are you a hugger or more of a hands off person?
Hands off for the most part-until I know you quite a bit
To link up, visit:
http://fivecrookedhalos.blogspot.com/2013/01/five-question-friday-1413.html